2nd January 2008
About
My name is Elmar Klausmeier. I live in Dietzenbach, a small town near to Frankfurt (Main), Germany.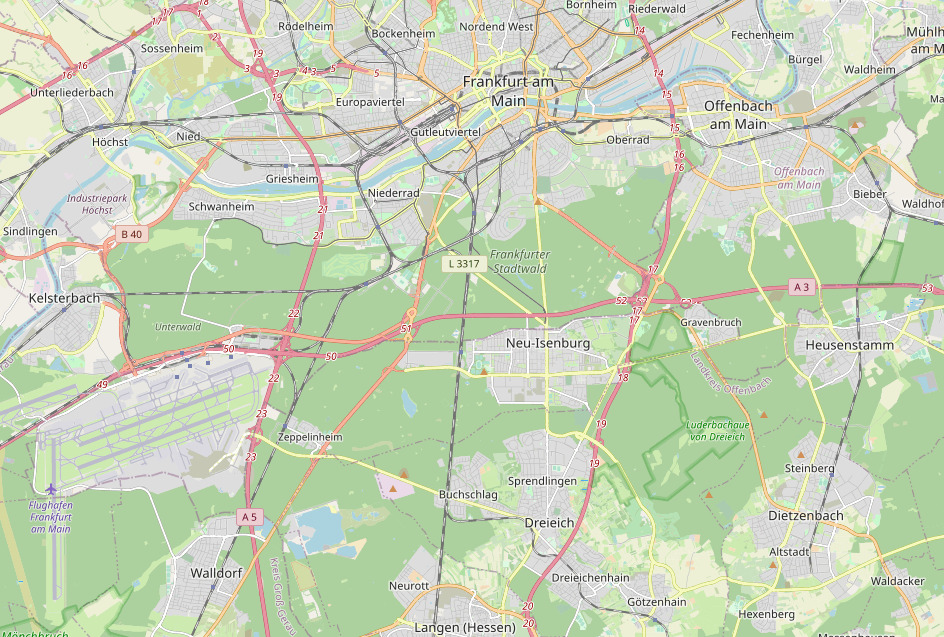 I write about computers, programming and mathematics. My list of interesting links can be found in klmlinks. Some autobiography is in Turning 50 – Now What.
Change history of pictures at the top of my old WordPress blog:
A former photograph in the header was taken when standing on top of Florianturm in Dortmund, Germany.
Previous photograph was Manhatten skyline seen from Newport, including view of the illuminated Freedom Tower at afternoon at a rainy and cloudy day.
The previous photograph in the header was from Berlin, not far from the Reichstag.
Previous photograph was Harvard Medical School.
Previous photo was Arrábida Bridge in Porto, Portugal.
Added 1880 Talisman oil painting from Henryk Siemiradzki.
Back again to 3, Berlin.
On eklausmeier.goip.de I have no image at the top anymore.
If you want to write me an e-mail then use my first and last name concatenated with a dot, Google is my mail provider.
My GnuPG public key is Elmar.pub, or given below. Its fingerprint is
5E04 8ADA 7FBC 5668 9E8C 61F5 168A 00C9 BAB4 7861

Public key:
-----BEGIN PGP PUBLIC KEY BLOCK-----
Version: GnuPG v1

mQINBFTyC1oBEACuIDQByGyTKnFrjjf6lqtM2PslsWjbDfqjT6RGfkSVulsgBprL
+1oGKY9d2HkKNNJBrjxp2YXR+NZJrLQStK0BPQDhdRllMfasvy1AHApzTwVyLa2b
JEYUzeJNMudnUNw3+otNYvLXvJmUlggdaqMJo7C4zJzBFM4EoOdsSVQtzkuwn4+Z
+dbawEXwkWNyzaCMygRH9ZEufe7hdDtFNK84j1ytIRNU12i04yWCQyAsmx5qRUmV
u/eGVArS49Tn35kvFjpdxC+8eJWXHvzsOLzAZkbUzxAkE8rp12Dic4gmm/RJ5E/q
DU0dIgZ7inQv5lpQ1T8muJ9TOy8QQnUISatJZsFMA+A080Gw3UC11Abc9J4cPica
b70tt1RhDQ1rDtXdFks509k66GW2vYTfiDBR71U5iz7TVHDuwWHNZLlXvZqwEMiQ
KMbAw2lQs3oTMCLQHMnXZYSWx4+1oS+lDP4dmyq++/NTY1LJWylG2PS9TiALIbUY
UD+ERSAuRh+aLnz5aQKHgGY+qGxnEZG19LYE6JY3L3t0RLpqhacNa8tStwSP9+fa
FLShcTSWGUFZsX8lGM8kEvYg/VvPJVRFIKLwUX0eE79K1SO34Vv5BKSFFy4ey2lU
Pq8b43lKR9+T/d9POCCZRpqaG4uOnthvw6/t41oL+RtTME4o0NykRZsBzwARAQAB
tDtFbG1hciBLbGF1c21laWVyIChEaXBsLi1NYXRoLikgPEVsbWFyLktsYXVzbWVp
ZXJAZ21haWwuY29tPokCOAQTAQIAIgUCVPILWgIbAwYLCQgHAwIGFQgCCQoLBBYC
AwECHgECF4AACgkQFooAybq0eGEwig//YSb1jafuIRw0M3KQQMrVjwn2AUiAdNiS
Ds0qHB+pSZu8HYyZuazp2FgCgzy3uS5OCkf4emegoGre23SHvYfYugP8YPGm5pgF
5GeQPavitfQ3YGh/c4rXmJU7vVLoN5kgJie+oTZUTkQpSlzHq4z3H8jITWAxVHiT
JYsrc6HXgGmqUcD0LJkRUP0YnNpULjWg7W8mG7ad8YjP3tjWrh82spqMUxFpvV9F
LbrklroFOif6EGGu4qul9JY2BBABaFQQt4Oxb46Qn4z4tzOf9wc7+YuipNsjxOeU
M69GNz0SDOLOtA/MKkqmWCvEJ1p5eDm1icuBPWe9OFW2wxx/mX04i+QzCy6KAkcW
kRRnuxFkzDIynjHm0tAZvJgVrKPwSve+FgAo3oGbBmOuUtDB2ywo1DMfkOwn6YwK
LRR81/vLB0inMHdt1/d/gEq5dlWaWxDQU2AQaiHeWk6eQKa8U8TaycvDVIrCQUYf
ykKDCduROUFAgDRvRhZIYdEXwROdsAREeZgFiQJwCB1Xl8muRgY2vbHlXK2UB5Gf
JscknDOA1x1WeSnjLVkHi5iVOhcHgXJRo/IQwadFeY35DIWT5ipAoN7ZQJdRPsF1
OIPGrM91iUUAnt0TjS4xGx1u4yefAdn6Rw1sYpWVE46SmrgRuYvQLsdvD8CDrTeK
v07wqXFbuwu5Ag0EVPILWgEQANaNujENp9s4m4uHL+BT8mW3l6cRXW9/cdc4jL+N
wS97qhW005pX2tYMtYugsSO0dQr2jUN0LBoD9kWsBYrHyN4oOdBlAplTXiDWlwlj
78zhX6spMGH9piUljNSBXcOr7TEejExjXk681wv4CZDnzw4jbthdOJQIeNlKQyDj
m3ywKzGnpLHk7ykShaHmiIuUGpJRqJIr54BDUotfv15eThULNYd18ZxFabS1TLPe
mNYTQnPlIeCZDIbKjOU8EWPBu8njZ3wfTYY90/02r2w/arB1X9a6rs29AGgZPiVu
Vhif6DFpCB5t+5gCa8cTLUu4Z3EEmymT8jRzPi8y6g3Yzy0Yu2+a6yayT6bjeHnF
V9N26urrfur2vM5yfkv8EQO9uLftHhiOtr3pd/Z2ALMCzRM2FPMNGVDt43STqHRp
hpzH9CXwKb+SNIeeUT5x/cASaO5DK+24raxrvI4hbu0HAi3pnNQkrSz/YtSsYbB9
6hPwlUIvXQsFzsYdLC/6G3gYLgFbNqWFaUlaCu2G0Dyy+OfN6l6ZhPEjL4CvWeAs
sY8V+pOBKI7LoX1yIhDw9doxHW7CLmP/+EZHa0QZm6rzkaCu9tcZ3J2X2WwAVkKN
cmgdw+fvdQP2reBJs14pJRy3XobbdmYrxAP0gKhigSSuWQYKAm7+ITJxdccnky7m
/zPDABEBAAGJAh8EGAECAAkFAlTyC1oCGwwACgkQFooAybq0eGGC7RAAkhAzIUlZ
ikzaBMyOm0jZaOajynPm1nZchEpSmoYl2dVwrutveDOVN1EOk5/IHocZfvXOWfQE
wp4mPhb/65PfJtY5w9A/voS5ULQGnJfewT0qt5Fw0HSSbmqc50wmEbLOkwkyO7Et
Sv8lSDkYd19EGs9wx+RzXEibQiH1c9g4k6L9vO8ygiWaLaGGTEYLqeYlSV/tGXyr
3+8bnG51UcdJx0Ic2nVOywSoVeSHqSsldct9sEJCvfHUan/QJTjtHiL/8i/pUaxa
kRfPO+L8WqZvwMJ4GVOlh7oRtW9vfBT6KL+k5fSNYbcUBeKZAiJNKbV2rulOeg/H
CyyHibyDmbIEoLIYqGW73XDmcSOr/tx1AEbIwd5HM/1C0fI0u7s9gW5V5woQ9oru
6R0fdBux2G2T44I8rOgK6r9EeTAp8HtgHiU3O0zAYse/AYFXLFgxRcViIeqOnFFW
npBHiDk5j2eklGz9YXssXcx4w4DBQ9ez3Au5F96hSqiJm8G6hC7Iyd/dPTVU2NoZ
1q9wBKlgTRo25ul4AKc6/xEEzrQG5wLgEw7jC6UXfAPUr8NnEm+bX9+gHPYN2cTx
biDyQDcW1Dj9sjTisI3GNA4s+f2zjn7GxSAQE3N7qq1PRtc4957oIvF48nfXp+bO
lljNq8Izsc/SQHRgeiwpzoDtGTRg/pV06Q4=
=nq2/
-----END PGP PUBLIC KEY BLOCK-----

This site does not use cookies.

Author: Elmar Klausmeier