21st October 2014
Review of the OnePlus One Smartphone
End of August I bought the OnePlus One smartphone, henceforth called OnePlus. Previously I owned a Google Nexus 4 smartphone. My initial motive for a new smartphone was to have more storage in my phone. As I use my phone as a camera and do no longer use a "real" camera, lots of pictures end up on my phone. The Nexus 4 had 8 GB of memory. My new OnePlus has 64 GB of storage, although basically only 56 GB are left for the user.
Here are the technical specifications of the OnePlus:
Qualcomm Snapdragon 801 processor with 2.5GHz Quad-Core CPUs (ARMv7), Adreno 330 GPU
5.5" 1080p display
3 GB internal memory
CyanogenMod 11.0-XNPH38R, Android 4.4.4, Kernel version 3.4.0
13 megapixel Sony Exmor IMX214 camera with f/2.0 aperture with 6 physical lenses
5 megapixel camera front facing camera
3100 mAh battery
three microphones, and bottom facing dual speakers
Miracast, Bluetooth 4.0, Wi-Fi 2.4/5GHz 802.11 b/g/n/ac, Gyroscope, Accelerometer, USB
The large 5" display initially made me skeptical, whether I could deposit the phone in my chest pocket. The good answer is: Yes, you can. The phone is somewhat between a smartphone and a small tablet.
I paid 304 Euros for the phone including shipping costs. A charger is included in the package. The package is depicted below.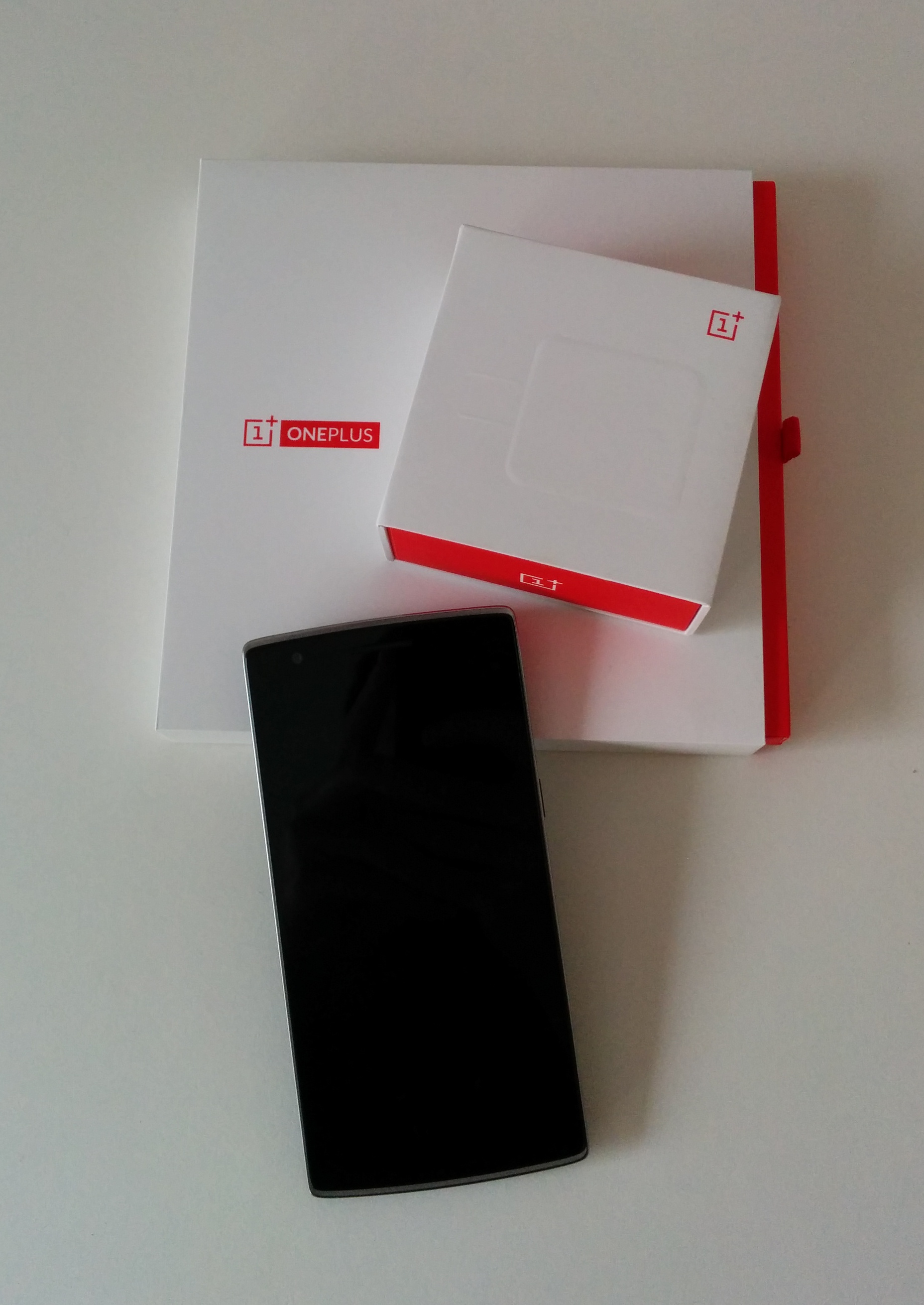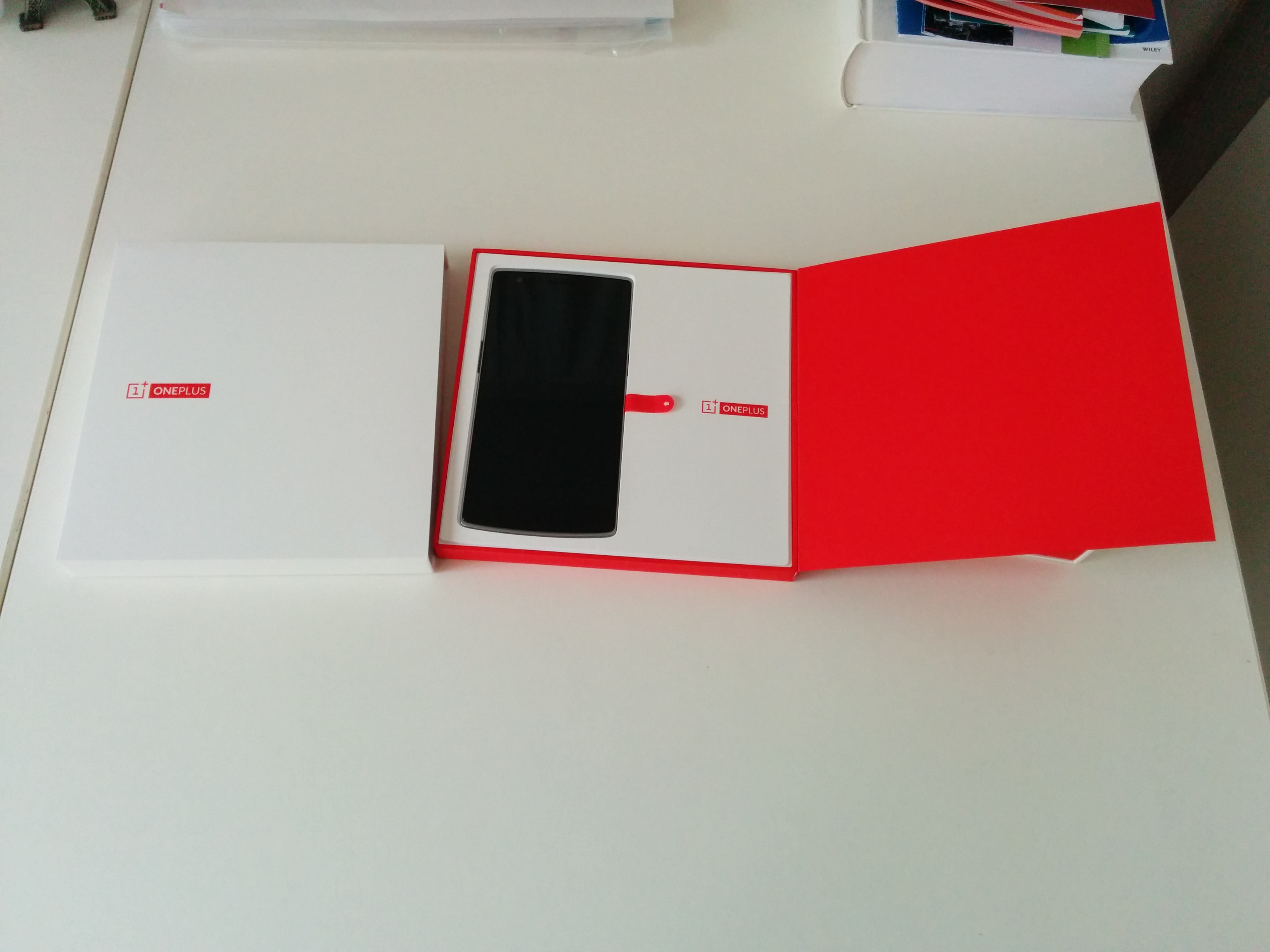 After almost two months of intensive usage I can observe the following:
The battery capacity usually lasts two days without recharging. After upgrading to Cyanogen 11.0-XNPH05Q, I no longer can use the phone for two days, but rather recharge every night. So this update from Cyanogen was not good, at least not battery-wise.
As the display is large I spend more time with my phone than previously with my Nexus 4, as I do not have to go to a real PC monitor.
I like the CynogenMod security features which allows to block apps from accessing your contacts, WiFi, etc.
I especially like the fact that I can switch on the phone by double tapping on the display, and switching it off by double tapping on the top of the display.
It is very easy to use the phone as a torch because the torch symbol is right in the menu.
I encrypted the whole phone, which took about an hour (just as announced). I notice no slowdown in day-to-day operation, although booting the phone now takes 10-20 seconds longer.
The phone reacts to user input in a timely and pleasant way, which I attribute to the quadcore processor.
I highly recommend not to touch the developer option on the phone. I did this and had trouble with the phone application itself and Google maps. After two factory default resets I just let the developer options in peace.
The price of 300 Euros and the above specs make this phone a very attractive buy.
Marques Brownlee has a good video review of the OnePlus here:
A thorough 25 minutes review by DetroitBORG is in below video. In particular it covers how to set-up profiles. Profiles on the OnePlus allow you to change settings based on your environment, i.e., WLAN ESSID, bluetooth signal, etc. It works somewhat like Tasker.